In today's interconnected world, international collaborations have become a cornerstone for business success. Companies are constantly seeking ways to bridge geographical gaps, foster stronger relationships, and enhance productivity. This week, we are thrilled to share the exciting news that a delegation from Cravit India is visiting our office in the Netherlands. Their mission is clear: to work hand-in-hand with our team and improve our work relations, while also exploring the realm of Odoo, a powerful business management software.
Building Bridges Across Borders
The arrival of our colleagues from Cravit India marks a significant step forward in our commitment to forging stronger bonds across continents. This visit is not just about enhancing work relations but also about celebrating the diversity of talents, experiences, and perspectives that each member brings to the table.
At a time when the world is increasingly interconnected, such international partnerships are invaluable. They provide us with the opportunity to learn from each other, leverage our combined strengths, and ultimately drive innovation and growth.
Collaboration in Action
During their stay, the Cravit India team will be working closely with our local team, engaging in various activities aimed at enhancing our collaborative spirit. This visit is not just about formal meetings; it's about sharing ideas, problem-solving, and, most importantly, building relationships that extend beyond our professional interactions.
Together, we will be focusing on key areas such as project management, software development, and quality assurance. The exchange of expertise and knowledge will undoubtedly be a two-way street, as our Dutch team will also be sharing their insights and experiences.
Odoo Experience 
A Glimpse into the Future of Business Management.
Event 8 till 10 November in Brussel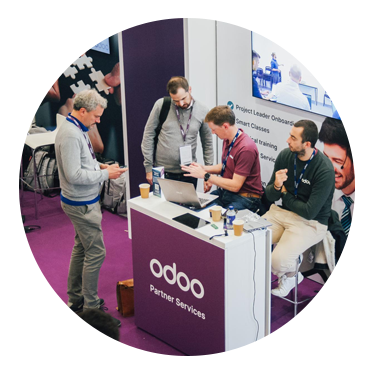 One of the most exciting aspects of this visit is the exploration of Odoo, an all-in-one business management software. Odoo has been gaining immense popularity for its ability to streamline various business processes, from inventory and HR management to e-commerce and CRM.
The Cravit India team will be have the opportunity to learn and show their expertise in implementing and optimizing Odoo, and we're excited to learn from their experiences. This hands-on Odoo experience will give us a taste of the future of business management and set the stage for potential improvements in our own operations.
**A Bright Future Ahead**
As we prepare to welcome our colleagues from Cravit India, we are filled with anticipation and optimism for the exciting opportunities this visit holds. The coming days will undoubtedly bring fresh insights, enhanced teamwork, and a greater understanding of the global business landscape.
Our office in the Netherlands is more than just a workspace; it's a hub for fostering connections and embracing the world's diversity. Together, with the Cravit India team, we look forward to strengthening our partnerships and embracing the future of business management with Odoo.
Stay tuned for updates as we embark on this collaborative journey, and join us in celebrating the power of international cooperation. Together, we can build a brighter, more innovative future for our businesses and our world.